Tango Experimental gladly invites to a weekend where we'll be dancing neotango with focus on large-sized visuals! Visuals means moving video art projected on walls (and floor) around the dancing hall. This weekend we'll dance in a world of art created partly by Halmstad artists and partly of the famous French impressionists at the exhibition at Halmstad Arena.

SATURDAY AUGUST 13TH
TANGO IMAGO
FESTSALEN AT HALMSTAD TEATER
8 PM - 1 AM


We'll be dancing neotango to visuals created by our VJ Emil Karlsson of local artists paintings, sculptures and poetry.

Entrance fee:
150:- for none members
120:- for members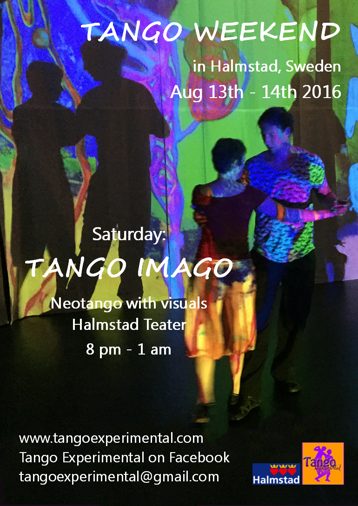 SUNDAY AUGUST 14TH
TANGO WITH THE FRENCH IMPRESSIONISTS
AT HALMSTAD ARENA
11 AM



As the first city in Europe, Halmstad offers the global exhibition "The French Impressionists". A sort of magic feeling takes place when walking into a hall, being surrounded by moving art from floor to roof, and also surrounded by music. Let's maximize the experience by also dancing in it!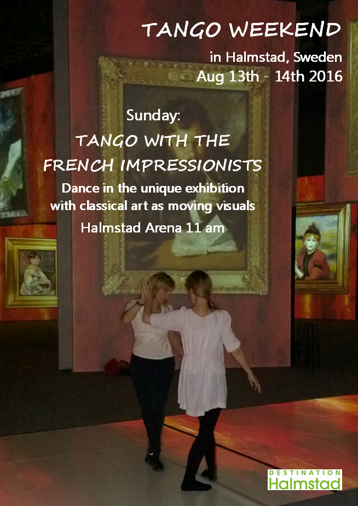 You can read more about the exhibiton at: http://www.monet-cezanne.se/en-GB

We'll be dancing in our socks on the white plastic carpet that is placed as a projecting surface. The music is part of the exhibition, a half an hour loop with varying French music. Among others can-can (which may invite to a fast milonga :) ), Ravels' Bolero and some waltzes.

We'll start dancing at 11 am and continue as long as we like (the exhibition closes at 5 pm, though). The café will be open all the hours and serves among other things chicken salad.

Entrance fee: 150:-
(normal exhibiton fee, the dance is included)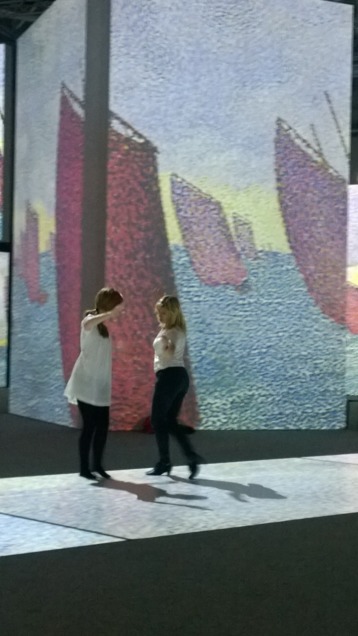 If you travel far and is looking for accomodation, don't be a stranger! Many of us are happy to offer tango friends a place to sleep. Or look for accomodation for instance here:

https://www.destinationhalmstad.se/english/stay.html

Welcome!




The event takes place in cooperation with Halmstad Kommun and Destination Halmstad.